More and more often, businesses are using digital signage as another way to communicate with employees, ensure that they understand corporate goals and strategies and drive them to action. Digital displays offer variety, convenience and freshness that email can't necessarily match.
As the saying goes, though, "less is more" when it comes to digital signs and how each screen is used. Valuable messages get lost on a display that is overflowing with informational zones: weather on one side, an RSS ticker at the bottom, corporate news in the main area. Add a corporate logo and maybe a picture or two and it's all too much.
After such displays have been up and running for a few weeks, no one looks at them anymore; they become digital wallpaper.
Well-designed digital signage is supposed to engage employees and make sure they're on the same page. What I just described won't accomplish that. But what does work? How do you engage employees? One way is through interactive content that allows employees to talk to each other, praise each other, learn from each other and compete (in a friendly way) with each other. Here are four ideas for such content.
Employee-to-employee recognition. Everyone needs a pat on the back for a good job now and again. Create videos of team members that talk about their accomplishments and how others can learn from them. But don't stop there. Provide a way for teammates to offer their congratulations and ask follow-up questions about the project the person is being recognized for, and display them on your signage, too. People love the human interest side of the story, which at the same time is delivering a message about the type of behavior and achievement that is valued at your organization.
How-to-videos. This is the age of the smartphone, and it doesn't take much to make an acceptable home-grown video anymore. Your employees already know this and are doing this on their own. Find out who they are, and the next time a department comes to you to communicate new processes and procedures, enlist one to make a video for you. Or ask people to record their take on a new corporate initiative and edit the results for displaying on your signage.
Leaderboards. Let's say it's the year-end holiday season and you, as a retailer, have store-by-store goals to meet. Don't keep them, or progress against them, a secret. Create a leaderboard on your back-of-the-store digital signage that shows how each location is doing. Watch as each team member's competitive spirit and team loyalty kick in. You can use this technique in any scenario in which a) you have a quantifiable goal to reach and b) individual or group effort towards that goal can be measured and tracked.
Gamification. 

The topic of leaderboards leads us to gamification – the use of gameplay mechanics for non-game applications. W

hat does that mean? According to a recent Digital Signage Today article, gamification brings game-like elements to a business process or strategy, with the goal of increasing engagement.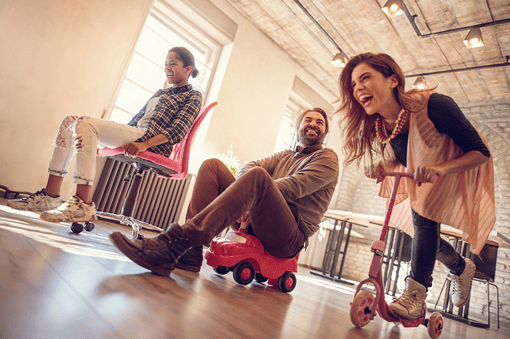 Let's face it, we prefer to have fun while learning, and that's the essence of gamification. Researchers found that gamification elements, such as points, levels or leaderboards, were effective at promoting specific user behaviors in non-game contexts, Digital Signage Today said. And 70 percent of the Forbes Global 2000 companies use gamification to boost associate engagement, revenue and employee retention. But "gamification works best when the gaming elements are clear, visible and distinct for all members of the organization," according to the article. "Elements like leaderboards, for example, have little meaning if nobody can see them."
That's where digital sign and its ability to accept and display data feeds comes in. Showcasing results and rewards where everyone can see them helps motivate users and keeps them interested in the game. Digital signage also provides a place to celebrate the end of the game and acknowledge people who performed well.
One final point: everything we've suggested here is a great tactic, but how do these ideas fit into your overall corporate communication plan and your digital signage program? As always, we recommend that strategy – the "why" of your communications and signage – come first and tactics second. That way, you'll know there's a reason you and your employees are playing games with your digital signage.
Want to learn more about understanding and measuring the impact of your digital signage on employees?
Download our "5 Ways to Measure the Impact of Your Digital Signage Solution in Corporate Communications."